Resonate festival trailer by Ivan Šijak
This weekend I had an excellent time at Resonate. Highlights included: The RGB+D workshop led by James George, Alexander Porter and Jonathan Minard of the Studio for Creative Inquiry which introduced a fairly large group of people to the exciting world of depth mapping HD video with the Microsoft Kinect using custom open source software tools. I was thoroughly compelled by the presentations given by Karsten Schmidt, Jürg Lehni and Alexandros Tsolakis of United Visual Artists. Karsten shed new light on the future of multi-core processing, while Jürg shared elegant typography and drawings created by his computer-driven automata Hektor and Viktor. Alexandros asked us to all believe – if even for just a moment – in the power of a sublime audiovisual experience.
I would liken Resonate to a primordial soup of potential collaborative energy. Both festival attendees and participants represented some of the brightest minds in generative design, code art, interactive art, mixed-media installation and data visualization. The smalltalk at the event was a generous mix of high-caliber intellectualism, code-geekery and agency gossip making for a perfect incubator of serendipity.
When we interviewed Bruce Sterling for Timeless, he enjoyed describing artists who have created influential works as the "spiritual ancestors" of related contemporary works which follow. He stressed the importance of acknowledging such spiritual ancestors when engaging in a theoretical art discourse. At Resonate I learned that KS12 and the RGB+D team share the spiritual ancestor of Bruce himself!
In an answer to a question posed by one of the RGB+D workshop participants as to why the team had decided to experiment with the Kinect, James George explained that they'd been inspired in part by Bruce's Vimeo Awards address Vernacular Video (link is to the full keynote; the relevant excerpt is embedded below). In this speech, Bruce describes a future video camera technology that allows camera angles to be decided in post-production.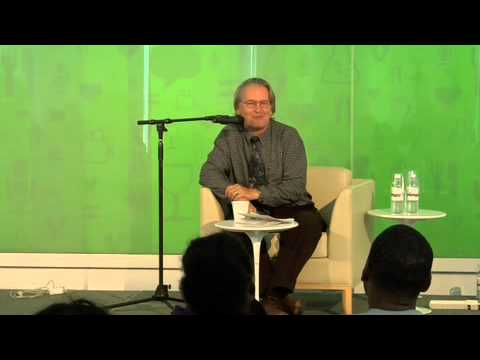 Now many months later the RGB+D team is working on a larger interview-based video project using interviews shot exclusively with their RGB+D methodology.
When we were commissioned by MU to create Timeless there was initally some consideration on our part whether to use the Kinect in our process. We too were inspired by the same Vimeo Awards speech. For reasons partly curatorial and partly technical, we decided to use a design fiction approach in our depiction of future technology.
We're fascinated by the evolution of ideas and the way that similar creative impulses can lead to parallel results which share so many fundamental qualities despite developing independently of one another. By acknowledging the ancestry of digital works it sparks new potentialities as we understand each other's inspirations and motivations.
What new connections did you make at Resonate? Have you had similar experiences at other events?